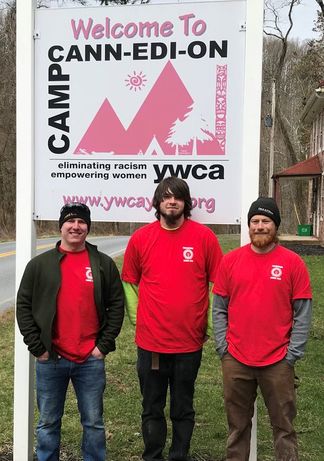 On April 7, York Electricians Class of 2018 returned to Camp Cann-Edi-On for their community project. Their tasks involved preparing the campgrounds for the summer events. This year's graduates recruited a large group of IBEW Local 229 electricians to help spread stones, clear paths, cut fallen trees, and clean portions of the camp. We are proud of this group of graduates and look forward to the great work they will continue to do throughout their careers.
Pictured (left to right): Dustin Sinclair, Tyler Brown, Derek Jennings
About Camp Cann-Edi-on:
"Camp Can-Edi-On has been owned and operated by YWCA York for more than 85 years. Once a safe haven for girls to come for sleep away camp, the 227-acre campus now offers an inviting retreat for YWCA York members, children, and the community at large to experience the great outdoors." The camp activities allow children to learn about the environment, build confidence, learn about teamwork, and make new friends through activities like kayaking, swimming, sports, and hiking. This is a great program that we are proud to help support.