Conduit Fabrication and Installation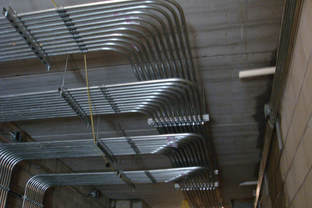 Conduit fabrication is a fundamental aspect of the electrical trade. When done correctly, it can look like a work of art. When done incorrectly, it can violate building codes, cause equipment failures, and jeopardize an entire electrical system. Improper installation of conduit can also make it impossible to pull wire through it rendering the entire installation useless. Our apprentices and journeymen are expected to have the knowledge to properly and efficiently install all sizes and types of electrical conduit. There are many techniques and tools used to bend conduit. Our apprentices are trained in the classroom and on the job with each.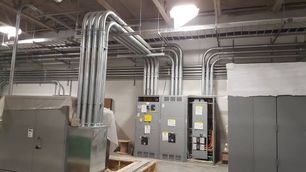 Conduit bending requires a strong understanding of geometry. Pathways are rarely ever as simple as a straight line from point A to point B. It requires us to bend our raceways around obstructions, penetrate through walls and floors, change elevations, and provide the appropriate support systems.  Often, the conduits are started before the connecting equipment is even in place so accurate measuring and drawing take-offs are critical.  Electricians are also required to run conduit so it does not interfere with other systems like sprinklers, ductwork, and plumbing.  This requires electricians to understand and interpret every mechanical and architectural system in a building.
In order to prepare our apprentices, we spend many hours studying and practicing the art of conduit fabrication and installation.  We have invested tens of thousands of dollars in the latest tools and equipment to ensure our workers are the best in the industry.  Our apprentices are proficient in the use of hand, Chicago, electric, and hydraulic benders for Rigid conduit and EMT.  They are also trained on the safe use of PVC benders and all cutting and threading equipment.  They learn how to bend 90's, 3 and 4 bend saddles, offsets, and even concentric bends.  Our instructors are highly skilled craftsmen and teachers.  There is no better place in South Central PA to learn conduit bending than York Electricians Apprenticeship and Training facility.